BODEGA DE FAMILIA
El concepto de bodega de familia ha sido desarrollado desde siempre por los emblemáticos hacedores de vino que lograron los grandes íconos de la historia y que sorprendieron al mundo marcando estilos. Todos ellos tuvieron su origen en pequeñas bodegas familiares que cuidaron con extremado celo y orgullo cada una de las etapas de producción, vinificación y comunicación con el convencimiento pleno de ofrecer lo mejor que la familia produce. Estas fueron las razones que nos motivaron a desarrollar el proyecto con la pequeña bodega familiar, porque nuestra vocación por la elaboración de vinos emblemáticos se identifica con este principio y al convencimiento total de lograr vinos dedicados, exclusivos y trascendentes.
FAMILY WINERY
The concept of a family winery has always been present among the emblematic winemakers who created the great icon wines and surprised the world with their innovative new styles. all of them had their origin in small family wineries that managed each phase of production, vinification and communication with the utmost care and pride, fully convinced that they offered the best that the family could produce.
This was our motivation in creating this small family winery project, because our vocation for making emblematic wines is identified by our total conviction that we are making dedicated, exclusive and transcendental wines.
A principios del año 2003 iniciamos junto a mi esposa y mis hijos, un emprendimiento familiar bajo el concepto de "vinos de familia" siendo éste el resultado de una larga experiencia y trayectoria como enólogo hacedor de vinos en el mercado nacional e internacional. Es un proyecto pequeño que tiene por objetivo principal la venta personalizada y limitada de partidas de vinos, espumantes y grappas de la más alta calidad. cada botella es única y por lo tanto se puede disfrutar del placer que ofrece la exclusividad y particularidad de cada cosecha.
At the beginning of 2003, together with my wife and children, I began a family enterprise under the concept of "family wines", which was the result of my long experience and trajectory as a winemaker in the domestic and international markets.
It is a small project whose principal goal is the limited and personal sale of small batches of wine and grappa of the highest quality. each bottle is unique, so one can enjoy the pleasure offered by the particularity of each vintage.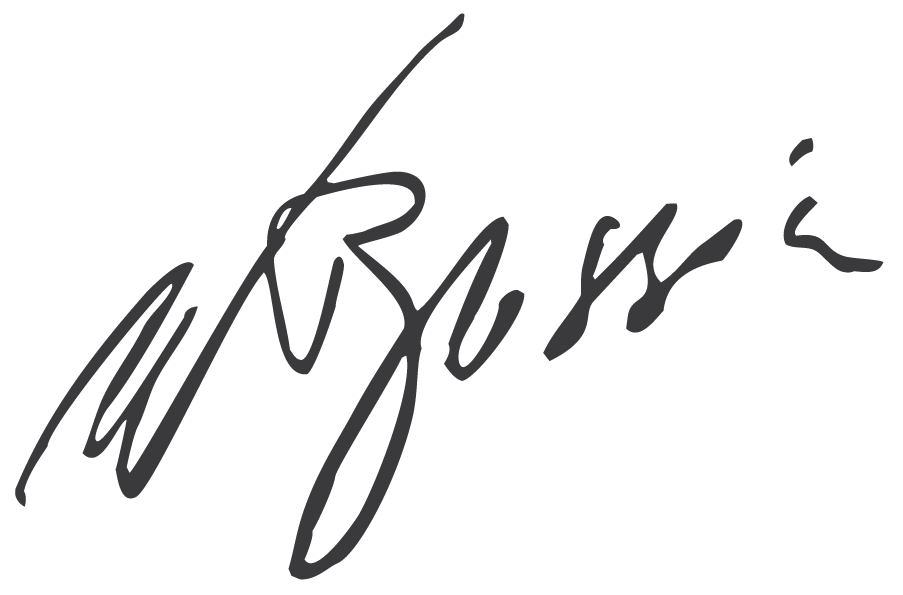 GENUINA INSPIRACIÓN
En bodega bressia utilizamos el concepto minimalista para la elaboración de todos nuestros vinos, considerado éste la mínima intervención humana apoyado por una tecnología adecuada. Contamos con una proporcionada capacidad de barricas de roble francés y americano que permiten diseñar los vinos con un estilo muy cuidado y equilibrado en su concentración en madera. La crianza en barricas se cumple en una cava subterránea ubicada a 6 metros de profundidad que alberga 340 barricas.
GENUINE INSPIRATION
At bodega Bressia we believe in and utilize the concept of minimal human intervention supported by the right technology to make all our wines. we have the necessary quantity of french and american oak barrels to allow us to design the wines with a hands-on style and a very balanced oak concentration.
The oak aging is done in a subterranean cellar which is located six meters below the surface and houses 500 oak barrels.
Nuestros queridos vinos, espumantes y espirituosas reflejan y representan el amor y dedicación que ponemos en cada uno de ellos. Todos los vinos se elaboran en partidas limitadas y sólo en condiciones óptimas de cosecha. El portfolio se completa con una elegante Grappa que expresa nuestro profundo arraigo con la tierra de nuestros abuelos italianos.
Our beloved wines, sparkling wines and spirits reflect and represent the love and dedication that we put into each of them. All wines are produced in limited lots and only under optimal harvest conditions. The portfolio is completed with an elegant Grappa that expresses our deep roots with the land of our Italian grandparents.